Perspectives – An exhibition of 2012–2014 photography grantees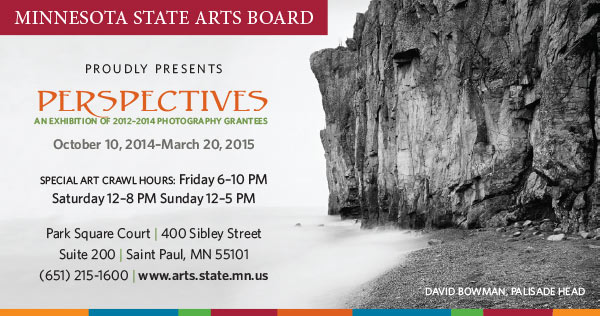 The exhibition entitled: Perspectives – An exhibition of 2012–2014 photography grantees opened at the Minnesota State Arts Board offices in St. Paul, Minnesota last night and it was a blast.
No other state in the nation gives more to the arts than Minnesota. This is standing ovation time as we artists have the opportunity to present a proposal for funding that will enhance the artists ability to make art and enhance the lives of Minnesotans. One need only look at the popularity of Art-a-Whirl in N.E. Minneapolis to see how a focus on the arts can start a movement!
Artists often lead the way in economic development and I believe that this is fulfilling the promise of legacy.  Nothing lasts quite like the arts. As a lover of art history, I have learned about history through the arts as it is an international language. Thank you to the Minnesota legislature for supporting a wide array of artists and their unique vision, passion or path. One artist pointed out that the exhibit comprised a half a million dollars in funding assuming that each artist maxed out on their budget allotment of 10K. Our state is a leader in so many ways and I believe that investing in the vision of artists leads Minnesota into the national and international spotlight in a fabulous way.
On a personal note I really appreciated getting to spend quality time with executive director of the Minnesota State Arts Board Sue Gens. Sue and I we were in the same class at Moorhead State University and now she sits on the board of the school, currently named Minnesota State University Moorhead. I am so proud of her!
Because of my evening last night, speaking with Sue Gens about MSU, I am sending a great big shout-out to the spirit of musician Lise Mann… a great teacher… one person can make a difference in the lives of two people.