Nobel Laureate Love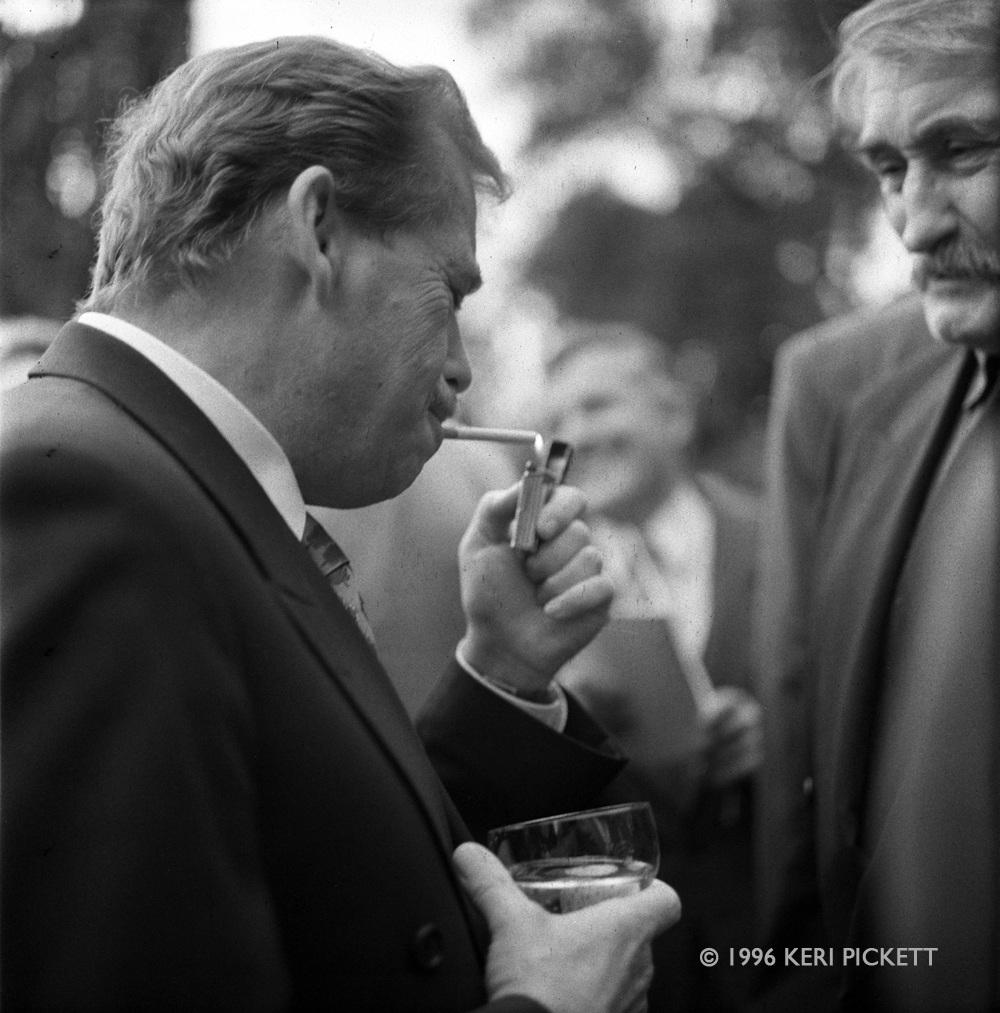 The list of Nobel laureates reads like a text book of war and peace. As someone who is interested in peace and the peace makers I salute the people who strive to make this world a better place because of their presence. I met Vaclav Havel at a function at the castle. I was fortunate enough to have a moment to speak with him and to present him with a copy of my first book LOVE IN THE 90S.
Since he wrote his book LETTERS TO OLGA while in prison I felt that he would appreciate the exchange of letters during their year long postal courtship in 1929-30.
The event where I was able to meet Vaclav Havel, was a Josef Plecnic exhibit and my life partner Michal Daniel and I were invited by fellow photographer Pavel Stecha who is now deceased. Havel was very gracious as he accepted my book and at some point I decided to make hay while the sun was shining and I made these photos with my Roleiflex camera and FOMA film. Foma film is the same film used by photographer Josef Sudek and many of the other great Czech photographers. The film can be very very dirty and it has lots of scratches from the factory but the look of the film is very special and I have used it for much of my 120 work over the years. My supply comes from Michal (aka Misha) as he was the sole US distributor of FOMA film until he got a STOP right now letter from Kodak, ending his film import business.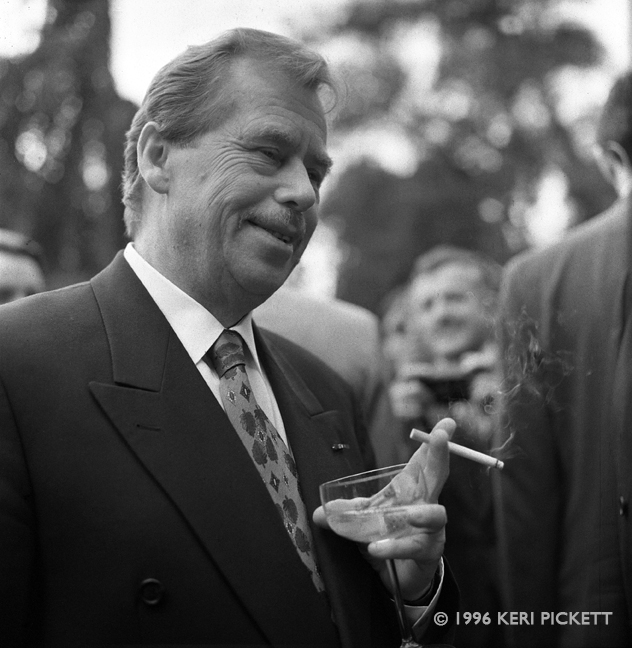 Anyway we were lucky enough to meet the Nobel Peace Prize winner and President of Czechoslovakia following the Velvet Revolution. He then went onto oversee the divorce between the two sides of his nation and two nations were created – all without bloodshed. He was a true hero and a friend to all who loved literature and the theatre as well as the whole freedom thing.
Over the years I have had the pleasure of meeting a few of the Nobel winners. Rigoberta Menchu, His Holiness the Dalai Lama and Daw Aung San Suu Kyi. I first met Aung San Suu Kyi in 1995 just days after her first release from house arrest. She had spent 7 years at that point, in her family home, a prisoner of the military dictatorship. Over the years I thought of different ways I might help Aung San as it seemed to me that very few people knew her story or her past, much less her present state of affairs which was under house arrest for 18 years… let out only a few times but put right back in for the crime of being politically popular.
So over the years as I continued to think of ways to help call attention to the plight of Suu Kyi in Burma and the dire state for other political prisoners there, I turned to Václav Havel for help.