Lasting power of a photograph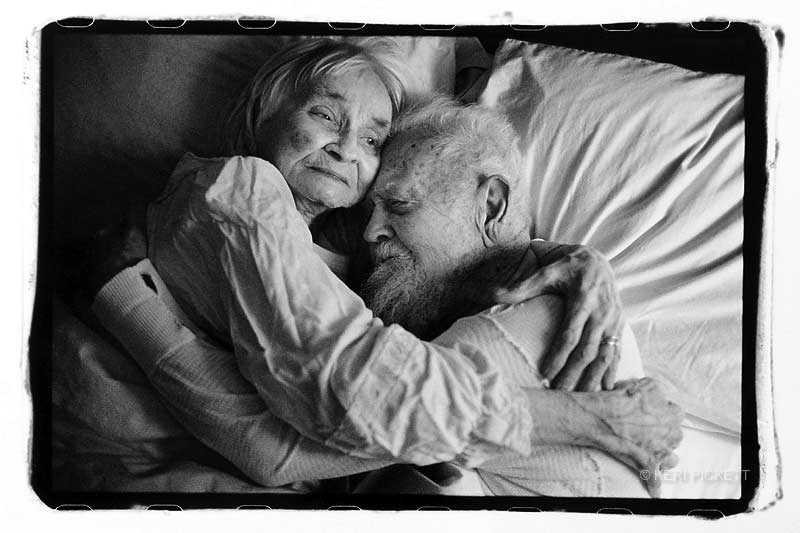 The new year started out great as I received a fan letter from someone who has collected my photography. The timing of the letter was perfect as I am visiting my family so all three of my grandparent's children were in the room to hear a reading of the letter. I gotta say I teared up reading the beautiful sentiments! I asked the sender for permission to share the letter and he said yes so here is the note!
Above is the image that was first published as a two page spread in Life magazine.
Dear Ms. Pickett –
Around 20 years ago, after seeing it in an issue of Life Magazine, I contacted you and purchased a print of your famous photograph (later to appear in your wonderful book, Love in the 90s). I presented it to my soon-to-be wife, and it has held a prominent place in our lives ever since – moving with us from Amherst, MA to our retirement home in Sarasota, FL.
I'm writing to tell you that for all these years your photograph has been of unparalleled importance to us. We have clocked countless hours contemplating it for its sheer beauty, for its its lessons on the narrative power of light, texture and composition – and for its near-totemic value as a testament to love, both in its subject and in the relationship of subject and artist.
I hope this note finds you well, that the year has been a good one for you, and that the new year brings you joy and continued productivity in your work.
My very best,
Julian Olf
Here is the cover for my award winning book Love in the 90s which is still available on Amazon in the out of print section.