Cuban Car-a-lot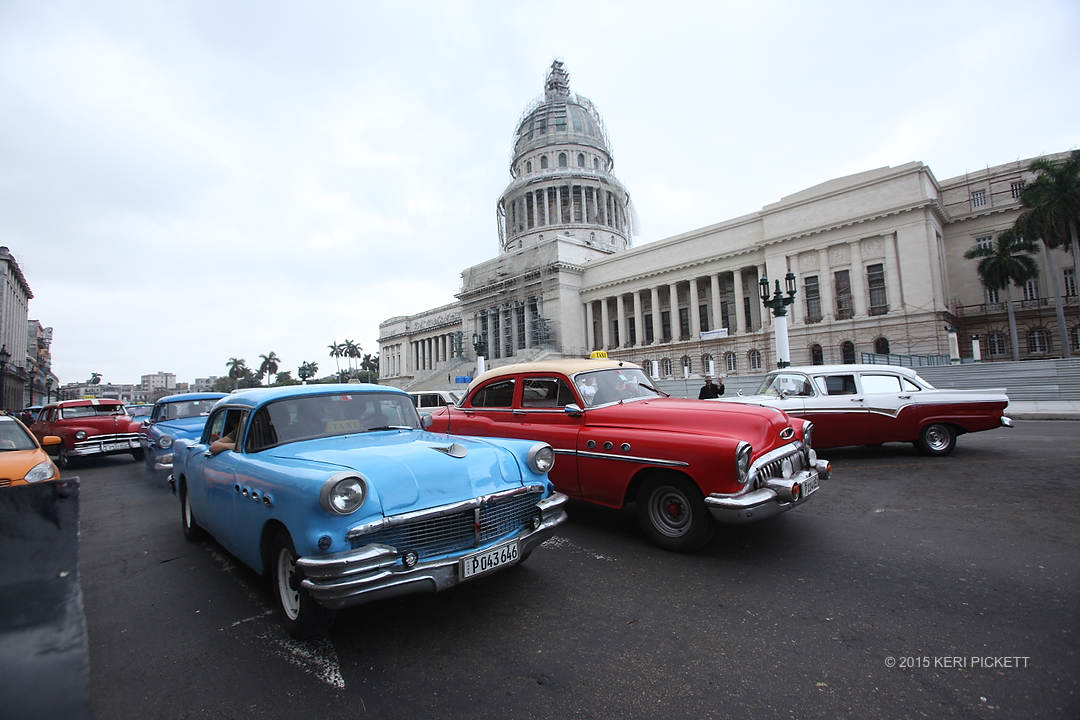 Style Isle! ha! Style is soothing. Style has an inner grace, an invitation to be your better self. Cuba has Havana and Havana has style. I hear there is an abundance of beautiful architecture on the Island. Both the cars and the backdrop of the dwelling and commerce are all screaming taste and style. I hate to be cliche but – frozen in time because since 1965 the country has been governed as a single-party state by the Communist Party.
Really, there is no way to be prepared for how cool it is to see all those old cars. It is also great to see the cars while riding in the back of a horse drawn carriage. The carriage view is almost better in order to soak in the beauty of buildings and the colorful life.  To me the people seemed friendly, interested and kind!
As we drive around I think about the wealth that was generated by the United Fruit company with sugar cane mills and the fact that all that wealth was created on the backs of slaves. Race relations are better in Cuba, as they are in the US, but the same history exists for both countries.
However gained or lost, the former wealth of the country is evident in the buildings and the style and independent spirit of the people is evident in the cars.
Many of the older cars are used as taxis both the the local people and for the CUC tourist dollars. This is one area where there might be change in the future. Taxi companies in co-op if they go over allotments of gas it comes out of their pockets. It must be expensive to keep up those old cars but you can see the pride as the cars rock.
A city of columns and colonnades reflects a time of style and grandeur… European roots mixed with African color and culture. Each way I look I see something I want to remember, to recall of the fleeting sights of our tour bus racing through our trip full of history.
Car-a-lot = Camelot. I love the colors and shapes of this place. I need my boyfriend to help identifying makes and models. Since he's a walking guide book to cars, if he had made the trip I would know what everyone is driving!
Many have wanted Cuba and has tried to get Cuba. It is the largest island in it's waters and the people are the true wealth. Someone in Cuba said "Get a Russian drunk and they will cry. Get a Cuban drunk and they will sing and dance and have fun."