Burma bound!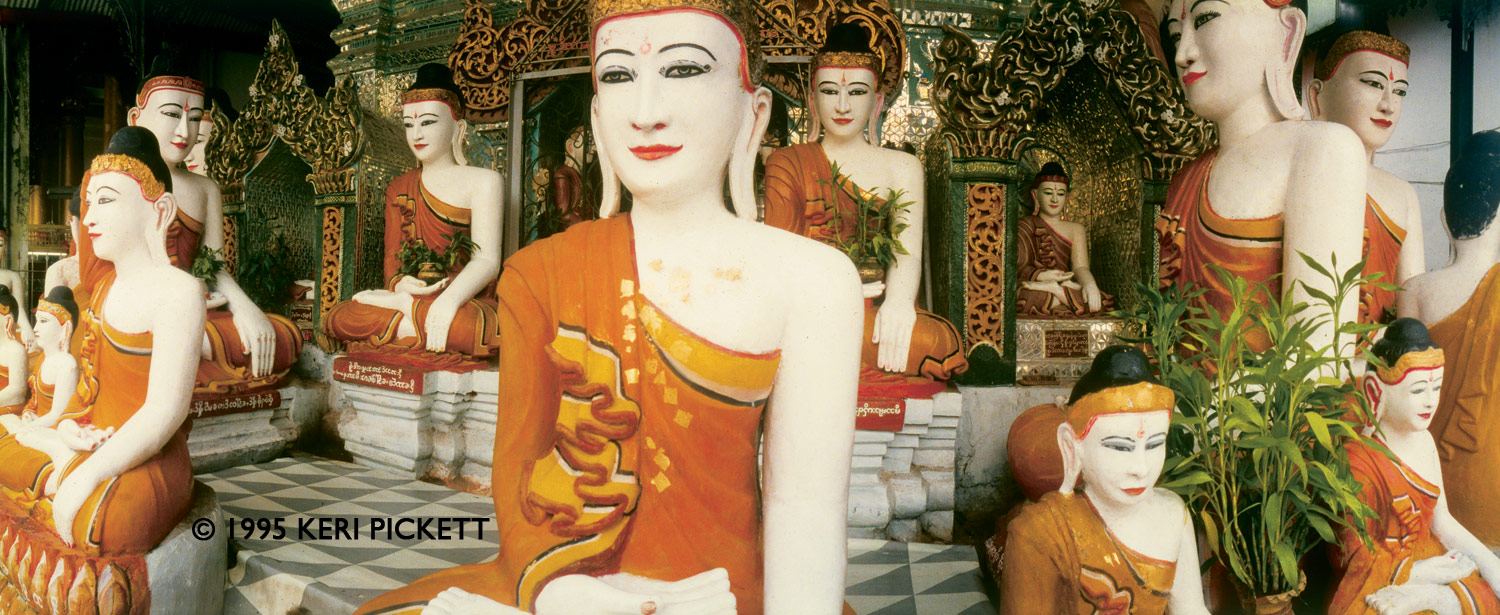 The road to hell is paved with good intentions. It has been over a month since we departed and then returned from Burma and I had a plan to blog my way through the country, sharing my experiences in a timely fashion. Somehow that didn't work out for me. After a full day of traveling and seeing the amazing places I would return to the hotel to collapse into the shower and only to emerge entirely brain dead and unable to do much but have dinner, go to sleep and get up at 6 am to repeat the amazing schedule.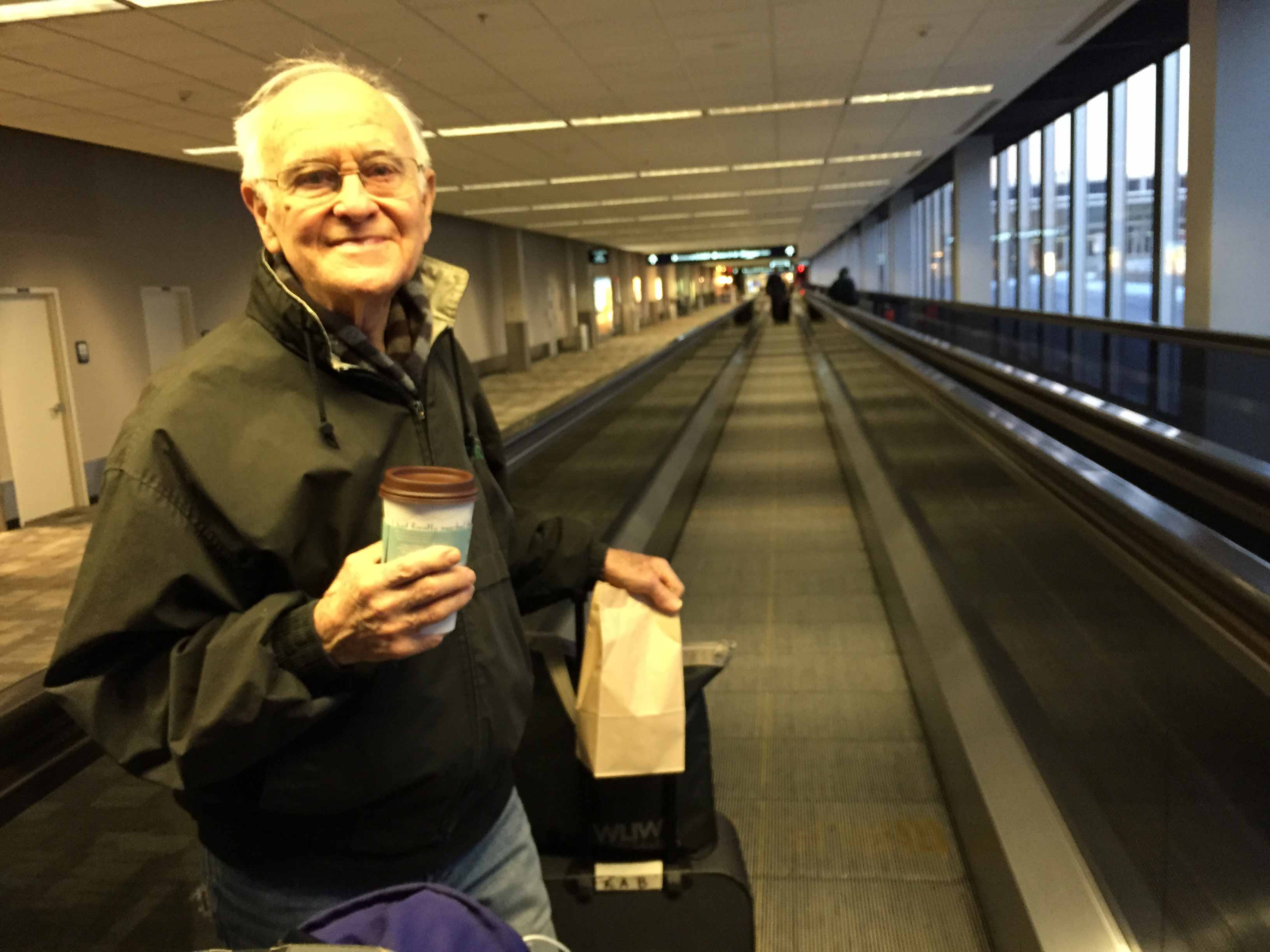 Burma trip
Traveling by it's very nature is an adventure. Home always looks best when getting ready to depart as the preciousness of time and place becomes apparent with the approaching departure. The coming home part of traveling is also so sweet as the world is a wonderful place but, as Dorothy reminded us, in The Wizard of Oz, there is no place like home.
My uncle Roy Blakey has been all around the world but Asia is his favorite part of our globe. His love has become my love and we have, over the twenty plus years of sharing a photo studio together, traveled to Sri Lanka, Thailand, Laos and Burma together. After so many years of traveling to ice show reunions together, over the years of producing "The Fabulous Ice Age", we are on the road again, returning to Burma.
This trip I have vowed to try and share the journey here on my blog. This is a new thing for me and I have no idea how it will go and if I can bring any insights or interest to others. But mostly I want to savor the experience. This morning I read Roy the news of Mike Nichols death. Roy asked about his age and when I said 83, Roy said, "my age", since Roy is 84. I reminded Roy that he has another 20 years or so to go in this life as his father lived to 97 and his mother to 101 and a half. So there is no time like the present to hold each day as a precious gem, whose value is measured in the possibility to love and share love. My uncle is not a demonstrative person but I think our travels together show the depth of our affection and appreciation for one another.
All this is the pre-amble to traveling with my uncle. as I sit down to write and start a record of our trip I look over and he is doing the same thing, using old recycled pieces of paper, he makes a chart of the days and makes notes as to our itinerary and our program. He has done this for all our trips and he files them away for reference later. So this is that. My notes to be called up later to reflect and remember – except my paper is an ipad and a blogspot.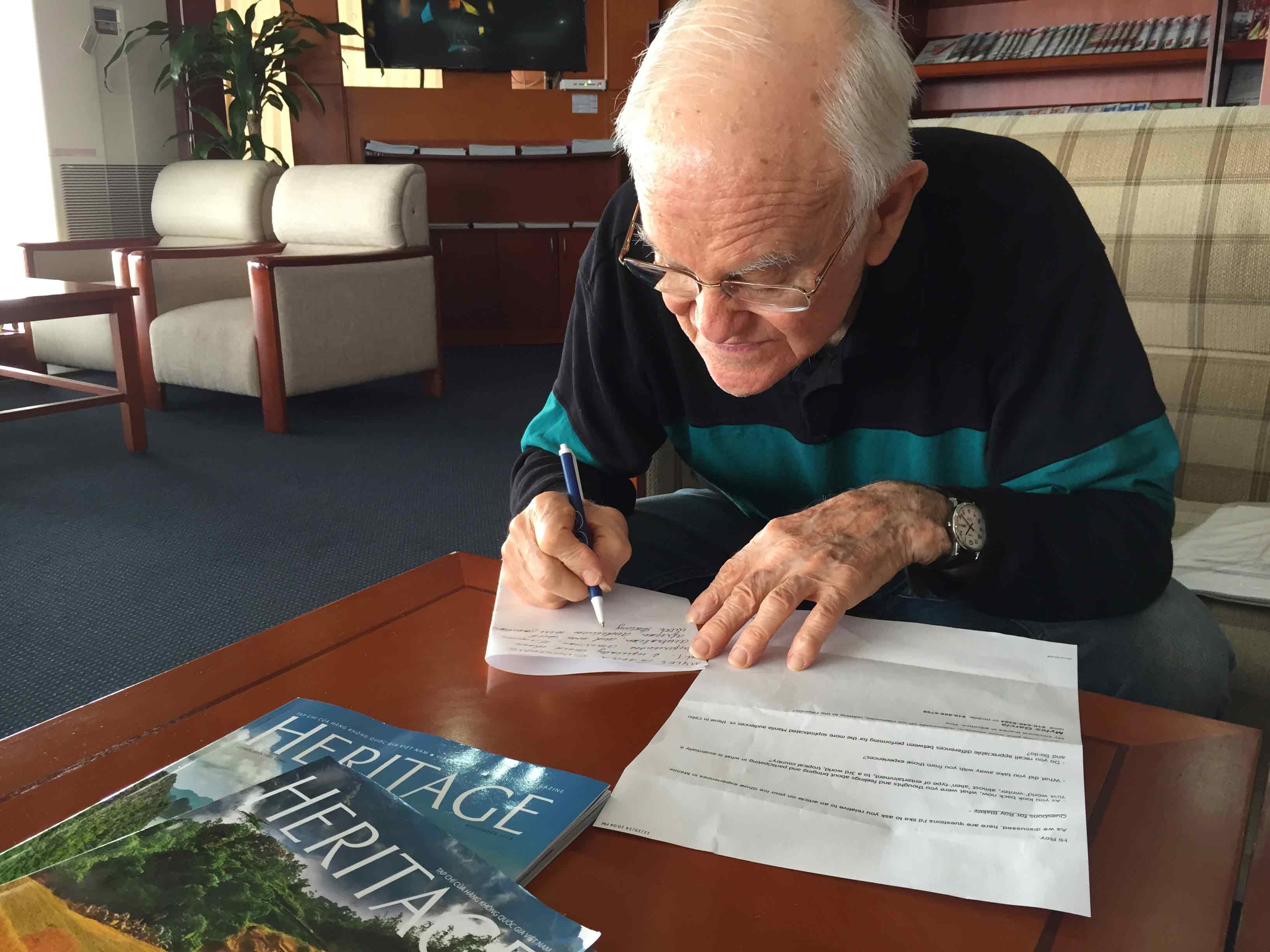 My uncle Roy Blakey, star of my documentary film The Fabulous Ice Age and I traveled together ten years ago. At that time I had no idea that I would go onto become a filmmaker by focusing on his life and his passion for the art and history of the touring ice shows. Before our trip a decade ago he first went to Burma in 1962 with the international division of Holiday on Ice and I first traveled to Burma in 1995 to see the pro-democracy leader Daw Aung San Suu Kyi just days after her first release from house arrest in July of 1995. So we have a history with this amazing country.
The journey started with a very long set of flights – Minneapolis, Seattle, Seoul, Hanoi, Yangon. Our lay-over in Hanoi was 20 hours and it was there that my Delta Gold status came in handy and we were able to sit in the lounge for our entire layover… they even locked the lounge at night and we were able to sleep on the couches!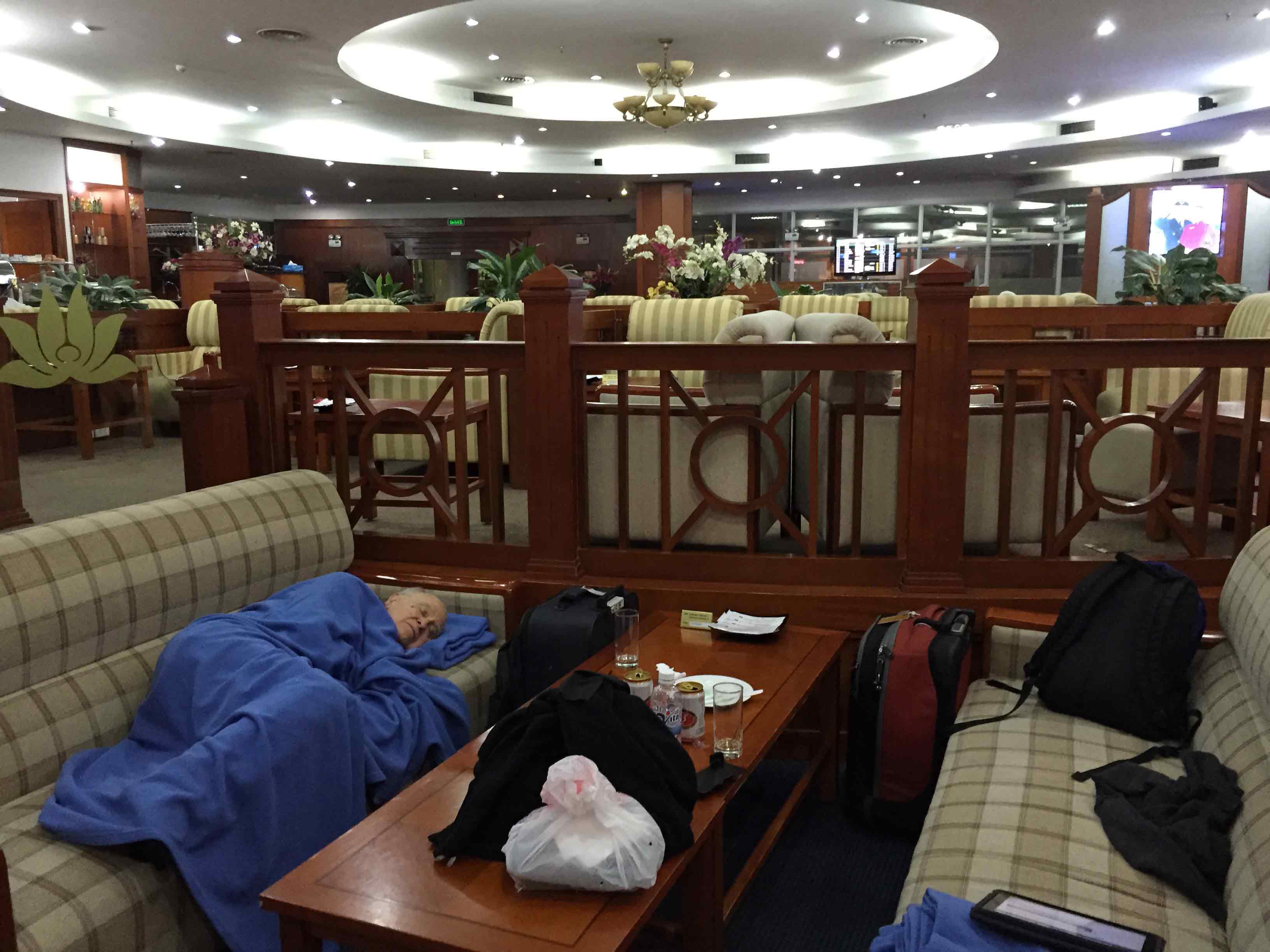 We were met with this fantastic sign indicating that people were waiting for us to arrive! Unlike our last trip where we just arrived and had no idea what would happen or how we would get around, this time I booked the entire trip in advance and we had a car and a driver dedicated just to us! This is the first time we met Aye Minthaye and after a month of traveling together, we would all become friends.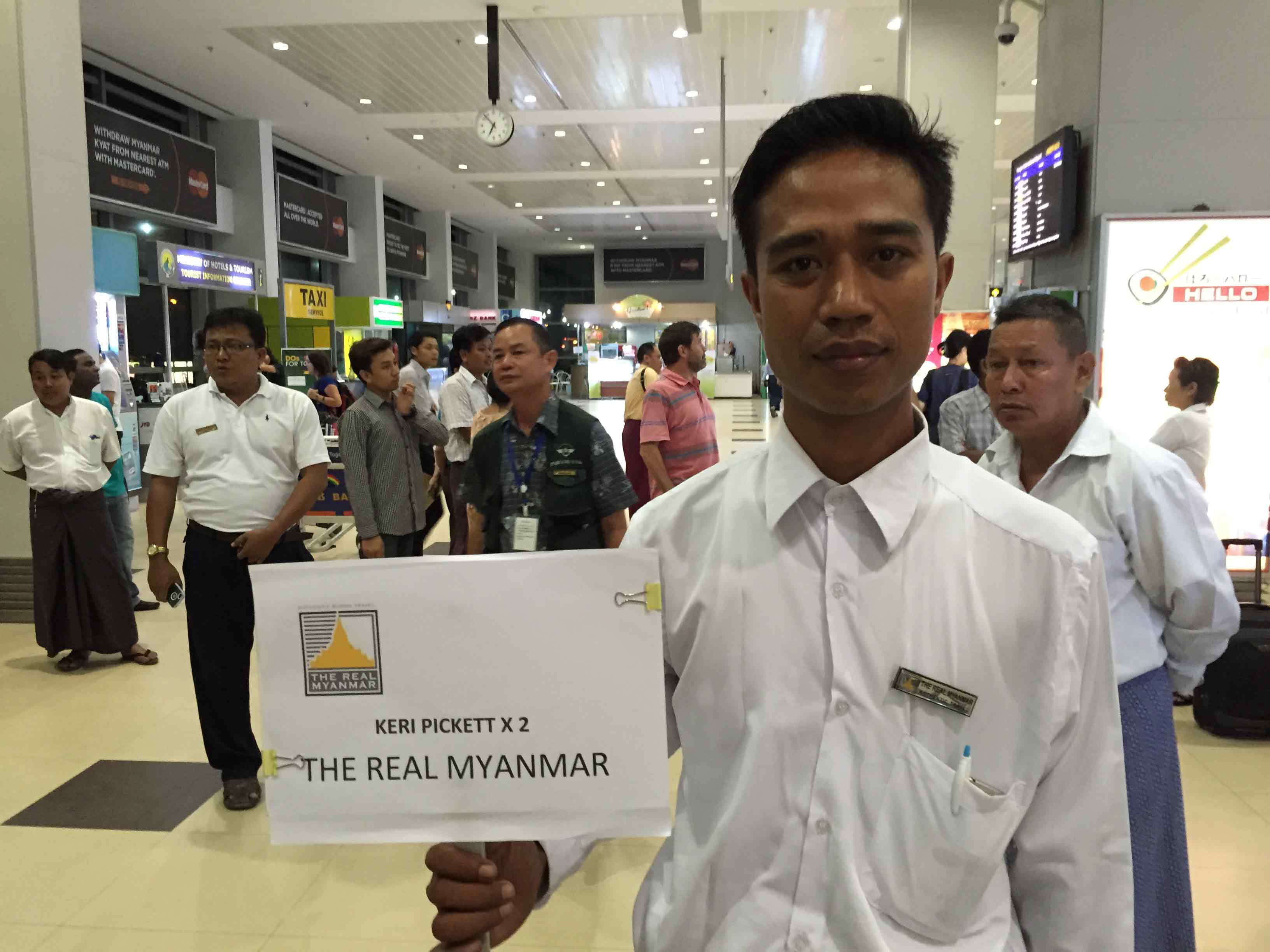 Following arrival, I keep looking around and seeing two worlds… how it is and how it used to be. I guess that is is what happens when you are lucky enough to return to a place over time. Change is harder to see when you live in a place… buildings creeping in one by one. But here in the largest city of Yangon, buildings have popped up like mushrooms after the rain. Seems that when you don't see a place for nine years and in the meantime Democracy hits – progress is indicated by in increase in skyscrapers.